Manu-Alaya (Manali) and Story of Manu-
The history of Manali is said to be steeped in mythology, with references dating back to the Ramayana and Mahabharata periods. The town is believed to have been home to Lord Manu, a lawmaker in Hindu mythology, who found refuge in this location when he and the other gods were flooded. According to scripture, he had to leave his ark to create human life again after the floods, and he built his first house in what is now known as Manali. The name of the town, "Manali," is derived from "Manu-alaya," which means "House of Manu." The old temple in Old Manali is dedicated to the worship of Lord Manu. Thus, Manali is honored with the distinction of being the first home of mankind.
Mythological History (Ramayana and Mahabharat)-
Manali is rich in legends connected to the Pandavas, who are believed to have spent a portion of their exile in the valley. In one tale, Bhim, one of the Pandavas, defeated and killed the formidable demon Hadimb and subsequently married his sister Hadimba, who is worshipped as a powerful deity in Manali. Another legend tells of Arjuna, who, following the advice of Sage Vyas, practiced asceticism in a cave known as 'Arjun Gupha' on the mountain of Inderkila (now called Deo Tiba) to obtain the formidable Pasupati Astra from the god Indra.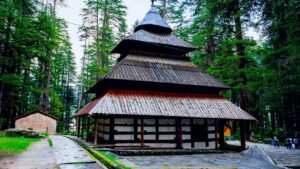 The Hidimba Temple in Manali, the Shangchool Mahadev temple in Sainj, and the Dev Dhank in Nirmand are believed to have connections with the Pandavas. These temples are associated with the events and stories from the time of the Mahabharata. Additionally, during that era, the renowned sage Vyas carried out his penance at a location known as 'Vyas Kund' on the Rohtang Pass.
Manali is not only associated with gods and goddesses, but it is also believed to be the dwelling place of the Sapt Rishi, the seven sages who hold great significance in Hindu culture. According to certain legends from the time of the Ramayana, Shringi Rishi, who resided near Banjar, participated in the 'Putreshti Yajna' performed by King Dashratha, which led to the birth of Lord Ram.
Additionally, Parshuram, considered to be an incarnation of Lord Vishnu, is said to have resided in the valley. The Parshuram temple in Nirmand serves as a tangible symbol of this mythological connection.
Manali in British Era-
According to some accounts, in the 17th century, Raja Jagat Singh brought the idol of Lord Raghunathji to his throne, where he continues to be worshipped as the presiding deity and king of Manali. Following Queen Victoria's proclamation in 1858, the British territories in the hills came under the control of the British crown. Initially, states like Mandi, Siba, Kangra, and others were loyal to the British and provided them with manpower and resources. The British were attracted to Manali due to its pleasant climate and accessibility, which offered a sense of rejuvenation.
Impressed by the natural beauty, the British spent a significant amount of time in Manali and started developing the area by constructing roads, churches, houses, and other amenities. This development benefited the British and the local people of Manali. The British also introduced apple farming by establishing orchards and releasing trout fish into the rivers of Manali. They chose Manali as their favored destination to escape the hot summers.
Manali Tourism-
Situated amidst the awe-inspiring scenery of Himachal Pradesh, Manali is a haven for those who appreciate nature's beauty and adventure. This delightful hill station has mesmerized travelers from all over the globe with its serene allure and peaceful atmosphere.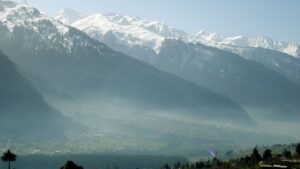 Manali boasts stunning landscapes that appear as if they were taken directly from a picturesque postcard. Enveloped by majestic snow-capped mountains, verdant valleys, and rushing rivers, it provides an ideal escape from the chaotic pace of urban life. Whether you desire tranquility in the embrace of nature or seek exhilarating outdoor activities, Manali caters to the preferences of all.
In addition to its natural beauty, Manali also boasts a vibrant cultural heritage. The local markets are brimming with colorful handicrafts and traditional artifacts that showcase the region's artistic talent. The welcoming nature of the locals further enhances the charm of the entire experience.
Whether you're seeking a calm retreat amidst nature or an exciting adventure filled with thrilling activities, Manali guarantees to satisfy your desires. Its stunning scenery and peaceful atmosphere make it a perfect destination for those seeking both tranquility and adventure.
Embark on a journey to Manali and immerse yourself in this paradise nestled in the heart of Himachal Pradesh. The experience will leave you feeling refreshed and longing to return time and time again.
Top Places to Visit in Manali-
| | |
| --- | --- |
| Arjun Gufa | Manali Club House |
| Atal Tunnel | Manali Sanctuary |
| Bhrigu Lake | Manikaran Town |
| Bhunter Town | Manu Temple |
| Chandrakhani Pass | Museum of Himachal Culture & Folk Art |
| Gadhan Thekchhokling Gompa Buddhists Monastery | Naggar Village |
| Gauri Shankar Temple | Nehru Kund |
| Gayatri Temple | Nicholas Roerich Art Gallery |
| Gulaba Village | Parvati Valley |
| Hadimba Temple | Rahala Falls |
| Hampta Valley | Rohtang pass |
| Himalayan Nyingmapa Buddhist Monastery | Rozy Waterfalls |
| Jagatsukh Village | Sagoo Waterfall |
| Jana Waterfall | Sethan Valley |
| Jogini Waterfall | Siyali Mahadev Temple |
| Knoi Waterfall | Solang Valley |
| Kothi Village | Van Vihar National Park |
| Kullu | Vashisht Rishi Temple |
| Malana Village | |
Things to do in Manali-
| | |
| --- | --- |
| ATV Ride | Igloo Stay |
| Bara Bangal Trek | Paragliding |
| Beas Kund Trek | River Rafting |
| Camping at Tree Stays | Ropeway Manali |
| Chandratal Baralacha Trek | Skiing |
| Fly Dining Experience | Sledge Ride |
| Hampta Pass Trek | Snow Scooter |
| Helicopter Ride | Trek to Bara Bhangal Kalihani |
| Hike & Camp at the Kothi Village | Trek to Deo Tibba Base Camp |
| Horse Riding | Yak Ride |
| Hot Air Balloon Ride | Ziplining Experience |
How to reach Manali?
By Air- Manali does not have its own airport, but the nearest one is Bhuntar in Kullu, which is about 50 km away. Flights by Air India are available between Kullu and Delhi, though they might not be very frequent. After arriving at the airport, you can easily book a pre-paid taxi to reach Manali.
By Train- Manali does not have its own railway station. The nearest one is Joginder Nagar, which is located approximately 163 km away. Unfortunately, Joginder Nagar Railway Station does not have direct train connectivity to major cities in India. To reach Joginder Nagar, you would first need to take a train to Pathankot, and then transfer to another train that goes to Joginder Nagar. From the railway station, you can hire a taxi to reach Manali, which typically takes around 4.5 to 5 hours.
Alternatively, if you plan to travel by train, another option is to reach Chandigarh Railway Station, which is about 270 km from Manali. From Chandigarh, you can then opt for a cab or bus to Manali. This is a more convenient choice as there are several trains that connect to Chandigarh Railway Station from major cities in India. The journey from Chandigarh to Manali usually takes around 8 to 8.5 hours.
By Road- Buses provide a convenient transportation option for traveling to Manali. The distance from Delhi to Manali is approximately 570 km, and there are frequent bus services available between the two cities. To make reservations for the journey, you can either book tickets online, visit the Inter-State Bus Terminus, or go to the Himachal Tourism office near Mandi House in Delhi. The Himachal Road Transport Corporation (HRTC) buses are highly regarded for their popularity, efficiency, and comfort. You can easily purchase deluxe Volvo bus tickets for this route online.
Where to stay in Manali-
| Hotels | Near By |
| --- | --- |
| Gezelling Inn | Simsa |
| Honeymoon Inn | Aleo |
| Woodrock Luxury Boutique Hotel | Mall Road |
| La Serene Valley | Aleo |
| Woodstock Inn | Hidimba Devi Temple |
| Hotel Highland | Hidimba Devi Temple |
| Holiday Heights & Spa Manali | Simsa |
| The Orchard Greens | Hidimba Devi Temple |
| Snow Peak Retreat & Cottage | Hidimba Devi Temple |
| Hotel Himgiri | Hidimba Devi Temple |
| Homestays | Near By |
| Uncle Nomad | Old Manali |
| Lost in Woods Homestay | Jagatsukh |
| Snow Range Retreat | Nehru Kund |
| The Doors Inn | Old Manali |
| Tree House Cottages | Naggar Village |
| Chandra Homestay | Khaknal |
| Jal Vayu | Shnag Road |
| Molly Cottage | Burwa Road |
| Yemthagaura B&B | Circuit House Road |
| The Duffdun House | Dhungri Village |
| Resort | Near By |
| The Anantmaya Resort | Shuru |
| Aloka Resort | Manali |
| Ashapuri Village – Luxury Resort & Cottage | Prini |
| The Allure Grand | Nehru Kund |
| Kalista Resort | Nehru Kund |
| Welcome Heritage | Nehru Kund |
| The Holiday Villa Resort & Spa | Simsa |
| The Whitestone Resort | Prini |
| Larisa Resort | Haripur |
| The Katoch Grand by Ostan | Nehru Kund |
| Guest House | Near By |
| Damini Guest House | Vashisth Hot Water Spring & Temple |
| Elysian Woods | Hidimba Devi Temple |
| Mountain Dew | Hidimba Devi Temple |
| Timberwolves | Old Manali |
| Negi Wooden House | Old Manali |
| Himalayan Rose | Mall Road |
| Hotel Manu Guest House | Old Manali |
| Dragon Inn | Old Manali |
| Riverside Guest House | Old Manali |
| Go Adventure Guest House | Nehru Kund |
| Camp | Near By |
| The Honey Woods | Shuru |
| The Last Stop Riverside Camp | Old Manali |
| Dream Hampta Café and Camp | Hampta AD Hydro Project Road |
| Mridaya Café and Camp | Shallin |
| High Adventure Camp Manali | Naggar |
| Camp 21 | Nehru Kund |
| Nirvana Hampta Retreat | Hampta AD Hydro Project Road |
| Allen Manu Camp | Bahanu Road |
| Himtrek Camp | Mall Road |
| Sky Garden Manali Camp | Old Manali |
| Villa | Near By |
| ama Stays and Trails Ramgarh Heritage Villa | Kullu |
| Saffron Stays Monarch Manor | Shuru |
| SaffronStays The Amlyn | Vashisth Hot Water Spring and Temple |
| Warehouse X Pashtel | Shuru |
| The Himalayan Retreat by Le Pension Stays | Dhungri Village |
| Stay Vista | Old Manali |
| The Forest Bound | Hidimba Devi Temple |
| Lagom Stay | Jagatsukh |
| Villa Riverine | Circuit House Road |
| Shashwat Luxury Duplex Cottage | Simsa |
| Tree House | Near By |
| Manali Tree House & Café | Hampta AD Hydro Project Road |
| Awe Glamping | Hampta AD Hydro Project Road |
| Royal Himalayan Tree House | Kasol |