About Raksha Bandhan-
The festival is a combination of two words- "Raksha" and "Bandhan." The word "Raksha" implies protection, while "Bandhan" implies tying. On this fortunate day, sisters tie a sacred thread called "rakhi" around their brother's wrist as a symbol of their affection and offer prayers for their brother's well-being, long life, and prosperity.
Why we celebrate Rakhi-
There are many mythological significance of the Raksha Bandhan festival.
Krishna and Draupadi: According to Mahabharat, Lord Krishna accidentally cut his finger while wielding the Sudarshan Chakra, which caused started bleeding. Draupadi, the wife of the Pandavas, promptly tore off a portion of her sari to wrap around Krishna's injured finger. Krishna was touched by the deep love and care of Draupadi for him, and Krishna bestowed upon her the assurance of protection. Since that day, Rakhi has been celebrated as a symbol of a brother's promise to protect his sister.
Goddess Laxmi and King Bali- According to the Vishnu Purana, an ancient Hindu scripture, there is a story about Lord Vishnu and the demon King Bali. Lord Vishnu defeated King Bali and gained control over the three realms. King Bali, being impressed by Lord Vishnu's power, requested him to stay in his palace. Lord Vishnu agreed and moved in with King Bali. However, Goddess Lakshmi, Lord Vishnu's wife, wanted to return to Vaikuntha, her divine abode. To ensure her wish is fulfilled, she transformed King Bali into her brother by tying a rakhi around his wrist. Later, when Goddess Lakshmi asked for a return gift, King Bali agreed to release Lord Vishnu from his promise and allow him to return to Vaikuntha. Thus, Lord Vishnu and Goddess Lakshmi were able to go back to their heavenly home.
Santoshi Maa and Lord Ganesha: Lord Ganesha had two sons who requested that he bring them a sister who would tie a rakhi on their wrists. Ganesha then created Santoshi Maa, who fulfilled their wish by tying a rakhi to his sons.
When is Raksha Bandhan Celebrated?
As per the Hindu calendar, Raksha Bandhan is celebrated on the last Purnima (or full moon day) of the Hindu month Shravan, also known as Rakhi Purnima.
How is Raksha Bandhan Celebrated?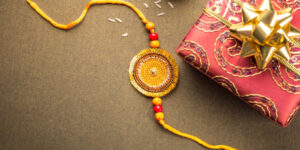 A few days before Raksha Bandhan, sisters start shopping for beautiful rakhi and sweets for their brothers. They also purchase other pooja essentials like roli-chawal, a pooja thali, and coconut which are required for the ceremonial rituals. Meanwhile, brothers buy presents for their sisters.
Everyone gets up early and takes a bath on the day of Raksha Bandhan. They do puja and perform the aarti for the Gods. Sisters, after applying a teeka of roli and chawal on their brothers' foreheads, then tie the rakhi on their wrists and offer them sweets to enjoy. In return, brothers give their sisters gifts.
Raksha Bandhan Mantra-
The mantra in Sanskrit that is chanted while tying rakhi on the brother's wrist.
येन भादो बली राजा दानवेन्द्रो महाबलः |
तेन त्वानामिभाद्नामी त्वामाभिबध्नामी रक्षे माचल माचल ||
Meaning- "I am tying this Raksha Bandhan to you that was tied to the Demon King Bali. Oh rakshaa please do not move and waver.