Jaipur of History
The city was primarily founded by Maharaja Jai Singh II in 1727. The name of the city is derived from his name. After the passing of his father, Maharaja Bishan Singh, Maharaja Jai Singh, who was just 11 years old, assumed the throne.
After Sawai Jai Singh, the city was governed by a number of Rajput kings. The city remained under the rule of various Rajput rulers after the era of Sawai Jai Singh. These rulers include Sawai Pratap Singh, Sawai Ram Singh II, Madho Singh II, and Sawai Man Singh II, all of whom played a significant role in preserving the city's heritage.
Throughout its history, the city of Jaipur faced repeated attacks from neighboring Marathas. Jaipur, however, remained a Rajput stronghold for most of its existence. Unlike many other parts of the country, Jaipur never came under the control of the British, who eventually left India in 1947.
The Pink City
Jaipur earned the nickname "Pink City" in 1853 when King Sawai Ram Singh decided to paint all royal and official buildings in a sandstone color. This was done to commemorate the visit of the Prince of Wales to the city. Today, Jaipur is renowned for its remarkable architecture and its vibrant atmosphere, which is beautifully depicted by the color of its buildings.
Jaipur Post Independence
After India's independence, Jaipur emerged as the capital city of Rajasthan. Despite the fact that the royal family continues to reside in the City Palace, the state is now fully governed by civil authorities and elected representatives in a democratic manner.
Delhi to Jaipur Road Trip
Jaipur, also known as the "Pink City," holds the distinction of being the capital of Rajasthan. From a tourism perspective, it ranks among the most popular destinations in India for both Indian and International visitors. Pink City offers a unique experience of royal treatment, combining ancient palaces, a rich historical heritage, contemporary culture, and traditional practices. This blend of elements makes Jaipur a favorite among travelers.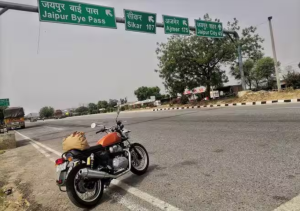 Imagine yourself driving down a loan quiet road, far from the frustrating chaos of traffic, with the cool breeze lightly touching your face as you take in the magnificent views. Of course, you would take a few breaks along the way to grab a refreshment and click some stunning photos for your Facebook and Instagram posts! Are you interested in making this daydream a reality? Well, all you need is a good old road trip!
The highway conditions are exceptional at most places, and there are plenty of restaurants and petrol stations along the route. During this 5 to 6-hour journey, You can stop at several tourist locations to explore various attractions, including beautiful villages, ancient palaces, magnificent forts, and tranquil picnic spots. Additionally, there are quaint eateries and even hotels to break up your journey. A road trip from Delhi to Jaipur presents an opportunity to appreciate all the stunning views along the way and have an unforgettable experience
Places to visit in Jaipur-
1135AD
Abhaneri Stepwell
Akshardham Temple
Albert Hall Museum
Amar Jawan Jyoti
Amer Fort
Amrapali Museum
Anokhi Museum of Hand Painting
Bagaru Village Block Painting
Bapu Bazar
Bhandarej
Bhuteshwar Nath Mahadev
Birla Temple
Central Park
Chand Baori
Choki Dhani
City Palace
Digamber Jain Mandir
Diwan-e-Aam
Diwan-e-Khas
Dolls Museum
Elefantastic
Fun City
Galtaji or Galta Monkey Temple
Ganesh Pol Gateway
Garh Ganesh Temple
Gatore Ki Chhatriyan
Govind Dev ji Temple
Hari Mahal Palace
Hathni Kund
Haunted Bhangarh Fort
Hawa Mahal
Jagat Shiromani ji Temple
Jaigarh Fort
Jaivana
Jal Mahal
Jantar Mantar
Jawahar Circle
Jawahar Kala Kendra
Jewels Lake Palace
Jhalana Leopard Safari
Johari Bazar
Kale Hanuman ji Ka Mandir
Kanak Vrindavan Garden
Khole Ke Hanuman ji Temple
Maharak Sawai Man Singh II Museum
Man Sagar Lake
Masala Chowk
Moti Dungri Temple
Nahargarh Fort
Narain Niwas Palace
Padao Restaurant
Panna Meena Kund
Patrika Gate
Peacock Restaurant
Raj Mandir Cinema
Rajmahal Palace
Ram Niwas Garden
Rambagh Palace
Rusirani Villag
Sambhar Lake
Sargasuli Tower
Shahpura Haveli
Sheesh Mahal
Shila Devi Temple
Sisodia Rani Garden
Tripolia Bazar
Wax Museum
World Trade Park
Zoo
Best Time to Visit Jaipur
November to February is the most pleasant time to travel from Delhi to Jaipur
Route 1: Distance from Delhi to Jaipur via NH 48 (260 km)
Delhi – Gurgaon – Manesar – Bhiwadi – Neemrana – Kotputli – Shahpura – Jaipur
Route 2: Distance from Delhi to Jaipur Via NH 48 & NH 248A
Delhi – Gurgaon – Bhiwadi – Alwar – Jaipur (325 km)
Route 3: Distance from Delhi to Jaipur Via NH 48
Delhi – Faridabad – Manesar – Bhiwadi – Neemrana – Kotputli – Shahpura – Jaipur (300 km)
Costing
By Car – 15000 (4 people)
By Bike- 9000 (2 people)
Note- It includes fuel, food, and hotel/guesthouse. These costings are approx and might be change from time to time.
Best Place to Eat on The way
Fauji Da Dhaba, Raj Riffle Camp – Gurgaon
Hotel Highway King – Neemrana
Vrindavan Restauran – Amer
Where to stay in Jaipur

Affordable budget hotels and guest houses
The Lodge B & B
Jaisal Castle Homestay
All Seasons Homestay
Vinayak Guest House
Rawla Rawatsar
Gypsy Monkey
Jasoda Heritage Hotel
Hotel Kalyan
Blue King
Hotel Rangoli
Atithi Guest House
Hotel Pearl Palace
Backpackers Villa
Hotel Classic Inn
Tara Niwas
Hotel Galaxy Inn
Jaipur Inn Homestay
Nahar Singh Haveli
Click Collection Jaipur
Pandya Niwas
Hotel Shalimar
Hotel Dharohar Palace
aa