An Overview of Paradise Beach-
Enjoying a tranquil vacation on a beach is one of the most unforgettable experiences one can have. At Paradise Beach, this experience is elevated to a surreal level, thanks to the various benefits the location offers its visitors. Paradise Beach, also known as Plage Paradiso, is renowned for its exceptional allure, captivating beauty, and stunning scenery. It provides visitors with a quiet yet gratifying atmosphere to unwind in peace and return rejuvenated.
A serene getaway to a beach is often an experience that leaves a lasting impression. The additional advantages provided by Paradise Beach make this trip even more enchanting. It provides a peaceful and pleasurable experience for those seeking solace and rejuvenation.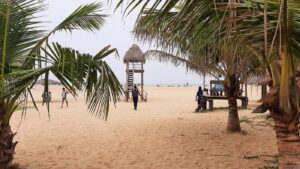 Paradise Beach, situated in Puducherry, is an exceptional destination for tourists of all ages. It stands unique among other beaches in the area, providing visitors with a relaxed atmosphere and breathtaking views unparalleled anywhere else. Its name is derived from the serene environment it offers.
This Pondicherry beach, located near Chunnambar town, has dazzling waves, amazing soft sands, and dense mangrove trees, and sparkling water, that boost its overall beauty and distinguish it from other trendy beaches in the city.
One could confidently argue that Paradise Beach has all the essential elements required to ensure your trip is extraordinary and unforgettable. At Paradise Beach, you have the opportunity to relax under the comforting shade of the sun, take a leisurely walk along the coastline, engage in thrilling water sports, and indulge in delightful dining experiences at nearby restaurants. Overall, it is safe to say that Paradise Beach offers everything necessary to maximize your trip and is truly an exceptional destination to create unforgettable memories with your loved ones.
How to Reach-
To reach Paradise Beach, which is situated approximately 6 miles (10 kilometers) south of Pondicherry's city center, you can opt for an auto-rickshaw or a taxi to reach Chunnambar Boat House. From there, you can embark on a delightful ferry ride to the beach that lasts about 10 minutes.
The journey to Paradise Beach itself is truly captivating. Along the way, during the boat ride, you'll experience stunning backwaters, mangrove forests, and river channels before finally arriving at the beach, you'll be mesmerized by the enchanting route. Sitting on the upper deck of the boat, you'll witness an exquisite view of a white-sand, palm-lined sandbank coming into sight. The lush green appearance of the backwaters, thanks to the dense mangrove forest cover, adds to the unparalleled charm.
There is a Rs. 30 fee for the boat ride. Paradise Beach is open daily until sunset. However, during the monsoon months of June to October, boat services may be unavailable
Activities on the Paradise Beach-
Jet Skiing
Parasailing
Banana Boat Ride
Surfing
Kayaking or canoeing
Trekking
Camping
Horse Riding
ATV Ride
Rocket Ejector
Rain Dance
Paradise Beach Timings-
Monday to Sunday- 9:00 am to 6:00 pm
Boat Ride Timings- 3:30 pm to 5:30 pm
Best Time to visit-
The optimal period to enjoy the activities at Paradise Beach is during the winter season, specifically from November to March. During this time, the weather is favorable and suitable for engaging in various beach activities. However, it is important to note that in the months of October and November, the receding monsoon can bring heavy rainfall to the area, making it advisable to avoid visiting Pondicherry during this season.
Attractions to Explore near the Paradise Beach-
Aurobindo Ashram
Promenade Beach
Chunnambar Boat House
Auroville Beach
Auroville
French Quarter
Basilica of the Sacred Heart of Jesus
Botanical Garden
Ousteri Lake
Pondicherry Museum
Places to Stay near Paradise Beach-
Shenbaga Hotel & Convention Centre- 1.5 km
Accord Puducherry – 1.0 km
Annamalai International Hotel – 0.5 km
Anantha Heritage Hotel – 1.4 km
Hotel Bon Sejour – 1.2 km
Le Royal Park – 0.5km
Places to Eat at near Paradise Beach-
Hotel Govthaem – 0.1 km
Hot Bread – 0.5 km
New Arabian Biryani Centre – 0.5 km
Haveli Vegetarian Restaurant – 0.5 km
Finz – 0.9 km