History of Jim Corbett National Park-
The very first national park in India, Jim Corbett National Park, was established in 1936 under the name of Hailey National Park. Initially, it was owned by the Tehri Garhwal princely state, but the Raja of Tehri handed over a portion of the region to the East India Company in exchange for their assistance in removing the Gurkhas.
In the mid-1950s, the park was renamed as Ramganga National Park. However, it was renamed once again in 1955-56 as Jim Corbett National Park, in honor of a renowned British sportsman and writer named Jim Corbett.
About Jim Corbett Nation Park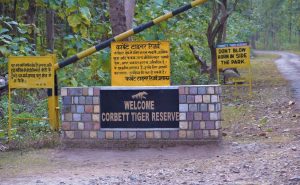 Situated near the popular hill station of Nainital, Jim Corbett National Park is a stunning park situated at the foothills of the Himalayas. It is renowned for its large population of tigers, which is the highest among all Indian national parks. At present, the total area of the park is 1,318.54 square kilometers (509.09 sq mi), consisting of a core area spanning 520 square kilometers (200 sq mi) and a buffer area covering 797.72 square kilometers (308.00 sq mi). The core area forms the Jim Corbett National Park, while the buffer area includes reserve forests spanning 496.54 square kilometers (191.72 sq mi) and the Sonanadi Wildlife Sanctuary spanning 301.18 square kilometers (116.29 sq mi).
The park was created as part of India's Project Tiger, which sought to safeguard tigers in the nation's national parks, primarily the Bengal tiger (Panthera tigris). The park boasts an extensive collection of 488 different plant species. Sal (Shorea), teak, oak, silver fir, spruce, cypress, birch, and bamboo are among the tree species that make up the forest cover. To provide the animals of the park with natural cover, a reed forest was established.
Numerous migratory birds can be found in the park. There are at least 600 resident and migratory bird species known, among them, shikras (Levant sparrowhawks), Indian white-backed vultures, black partridges, golden orioles, red jungle fowl, black-crowned night herons, and peafowl are some of the common sightings.
The park is home to a diverse range of wildlife, including 25 reptile species like the Indian python and cobras. Additionally, it boasts 7 species of amphibians, which include crocodiles and gharials. In addition to tigers, the Corbett National Park is also inhabited by Leopards. Other mammals that can be found there include the jungle cat, barking deer, spotted deer (chitals), sambar deer, sloth bears, Himalayan black bears, langurs, rhesus macaques, Asiatic black bears, Indian gray mongooses, elephants, wild boars, and nilgai (Indian antelope).
The Corbett National Park is divided into different zones that offer visitors the opportunity to enjoy wildlife safaris and engage in various adventurous activities. Exploring the park's diverse zones guarantees an unforgettable wildlife holiday experience. Each zone provides a lush atmosphere and well-equipped forest lodges for those seeking adventure.
Bijrani Zone-
Open Period for Safari Tour – 15th October to 30th June
Safari Offered -Day Jeep Safari
Maximum Number of Jeep Safari – 30 Jeeps in One Shift
Forest Rest House – Bijrani FRH, Mailani FRH
It is the second-best safari zone to spot tigers after Dhikala zone in the park with rich tiger sightings. It is a popular destination among tourists, appreciated for its scenic beauty and peaceful atmosphere. Bijrani has a diverse landscape with Sal forests and grasslands. The entry to this zone is through Amdanda Gate.
Accommodation within the zone includes two Forest Rest Houses – Bijrani (FRH) and Malani (FRH). There are three types of accommodations including single, double, and four-bed rooms. The park offers good quality food served at KMVN canteen.
Bijrani Range is divided into core, buffer, and tourism zones. Tourists are permitted to visit only the tourism zone, which begins 5 km from Amdanda Gate. The Forest Rest House (FRH) Bijrani is available for overnight stays in Bijrani Range. Visitors have the option of taking a jeep or elephant safari in Bijrani, but it is recommended to pre-book Safari at the Ramnagar office.
Jungle safaris can be enjoyed in the morning or evening, but only in areas outside the core zones. To ensure the wildlife habitat is not disturbed, a limited number of vehicles are allowed on specific paths. In the Bijrani zone, only two safaris are operated per day.
Malani sot (stream) offers a picturesque setting and a tranquil ambiance. It is one of the best locations for a peaceful stay and bird watching.
Opening and Closing
The Bijrani Day Safari zone of Corbett Tiger Reserve remains open for tourists from 15th October to June. And Bijrani Zone remains closed for night halts and Day visits from 1st July 2021 to 14th October 2021.
Dhikala Zone-
Entry Gate: Dhangari Gate, 32 Km From Ramnagar
Open Period for Safari Tour – 15th November to 15th June
Safari Offered -Day Canter Safari Only (No Jeep Safari)
Maximum Number of Canter Safari Seats – 32 Seats in One Shift
Forest Rest House – Dhikala FRH, Gairal FRH, Sarpduli FRH, Sultan FRH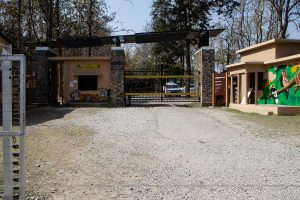 The Dhikala Zone is highly regarded and adored among all the tourist zones in the Corbett National Park. It is the most renowned and frequently visited zone. One of the reasons for its popularity is that it is situated deep within the national park and is known for its abundant Royal Bengal Tigers and majestic Asiatic Elephants. Visitors highly desire to explore this zone during the day for safaris and also to spend the night at the Dhikala forest rest house.
The Dhikala Zone, the largest zone in the Corbett National Park, boasts a diverse range of plants and animals. The magnificent landscape of this zone includes expansive grasslands called Chaurs, dense forests of Sal trees, and multiple channels of the Ramganga River, providing a captivating view of nature. It is widely regarded as the prime zone for spotting tigers, making it the top choice for wildlife enthusiasts to spend the night. This region is also home to other animals such as wild elephants, Spotted Deer, Wild pigs, Hog Deer, and Barking Deer, often spotted in this area. If one is lucky, one may witness the thrilling sight of a tiger chasing a deer in the grasslands or near the water streams. Additionally, the Dhikala zone is a paradise for bird watchers as it houses a wide variety of bird species that can be a visual treat.
Visitors who make reservations at the Forest Rest House have the opportunity to go on an elephant safari throughout the zone. Alternatively, for those who prefer a day tour, the Dhikala zone offers a Canter safari organized by forest officials. The Canter safari involves riding in an open bus with 16 seats per bus, and a maximum of 2 buses are allowed every shift during the Canter safari. To join the Canter safari, you must reserve your seat in advance and go to the Dhikala zone's entry gate.
Jhirna Zone-
Entry Gate: Dhela Gate, 15 Km From Ramnagar
Open Period for Safari Tour – Throughout the year (subject to weather conditions)
Safari Offered – Day Jeep Safari
Maximum Number of Jeep Safari – 30 Jeeps in One Shift
Forest Rest House – Jhirna FRH, Dhela FRH
Winter Safaris Timings
Morning: 07:00 am – 10:00 am
Evening: 02:00 pm to 05:30 pm
Safari Timings in Summer
Morning: 06:00 am – 09:30 am
Evening: 03:00 pm to 06:30 pm
Best Time to Visit – October to Mid June
Jhirna was once a village that was moved to another location as part of Project Tiger. Over time, this area has transformed into a dense forest. The Jhirna zone is open to visitors throughout the year, making it one of the most popular zones in the Corbett Reserve forest. This zone is renowned for its accessibility and the opportunity to see a wide variety of wildlife. Tiger sightings are common here, and there is also a diverse range of other wildlife species, including wild bears, wild elephants, nilgai, cheetal, sambar, and various types of deer. Additionally, there is a rich variety of bird species found in this zone.
In the Jhirna zone, two shifts of day safaris are permitted, with 30 jeeps being allowed in each shift. You have the option to book a Jeep safari online, with a maximum capacity of 6 adults and 2 children per Jeep. According to the regulations, each jeep must have a naturist or guide accompanying it. It is advisable to make a pre-booking for a safari in the Jhirna Range, and these bookings can be made at the Ramnagar office.
For tourists who wish to spend the night, there is the option of staying at the Forest Rest House (FRH) in Jhirna. Moving on to the Dhela zone, the Dhela forest rest house is situated in the buffer area of Corbett Tiger Reserve. This rest house is highly recommended for bird watchers. It is located 18 km away from Ramnagar and offers 2 rooms with double beds, as well as a kitchen facility.
Dhela Zone-
Open Period for Safari Tour – Throughout the year (subject to weather conditions)
Safari offered – Day Jeep Safari
Maximum Number of Jeep Safari – 15 Jeeps in One Shift
Forest Rest House – No FRH in this zone
Morning: 5:45 am – 9:15 am
Evening: 3:00 pm – 6:15 pm
Best time to visit – October to Mid June
This particular zone is open to tourists all year round, although the availability of safari tours depends on the weather conditions. It is home to the majestic Royal Bengal tiger, leopards, wild elephants, Nilgai, various species of deer, wild bears, reptiles, and a wide variety of birds.
What sets this zone apart is its reputation for being a fantastic birding destination. It boasts a vast range of bird species and is considered the best zone for bird-watching. In addition to the birds, this zone is also a habitat for different wild animals, including barking deer, sambar deer, wild boar, black-faced monkeys, and Asian elephants. You will also find a variety of trees such as Bel, Kusum, Bakli, and Mahua, as well as the chir pine, a type of pine tree commonly found in this zone.
You can clearly see the deer and peacocks enjoying their own time and dancing to the rhythm of nature as you take the morning safari into the jungle. The lush sal forest, river and foothills make for a truly enchanting and sensory experience. If you're looking to explore further, you can choose between an Elephant or Jeep Safari. However, keep in mind that you need to obtain a safari entry permit, book a Jeep, and a guide in order to enter the park.
Durga Devi Zone-
Entry Gate: Durga Devi Gate, 28 Km From Ramnagar
Open Period for Safari Tour – 15th November to 15th June
Safari offered – Day Jeep Safari
Maximum Number of Jeep Safari – 11 Jeeps in One Shift
Forest Rest House – Lohachaur FRH
The Durga Devi zone, situated on the hills, offers a captivating view of nature and a diverse range of wildlife. This part of the Corbett forest is known for its peaceful wilderness and attracts numerous tourists each year. The beauty of this zone is enhanced by the intertwining Ramganga River and Mandal River, which add to the charm of the forest landscape. The Durgadevi zone is renowned for its stunning scenery, characterized by hilly terrain, lush green forests, and a sense of intense tranquility. It is also a paradise for bird enthusiasts, as it is home to a wide variety of exotic bird species.
The Durga Devi zone boasts an abundance of flora, including Sheesham, Sisoo, Dhak, and Khair. Throughout the park, you'll also notice other types of vegetation, such as Chir Pine, Chir Choti, Gajar Sot, Banj Oak, Kanju, Jamun, and Aamla. The zone is home to a variety of fauna species, including the Royal Bengal Tiger, Wild Boar, Wild Asian Elephant, Spotted Deer, Sambar Deer, Barking Deer, Chital, Rhesus Monkey, Black Faced Monkey, and Jackal. This zone is particularly famous for sightings of wild elephants and bird species due to the larger number of wild elephants found in this zone compared to others in Corbett Park. Additionally, the river channels within the zone are home to the renowned Mahsheer fish.-
In this area, there is a forest rest house called Lohachaur forest house where visitors can spend the night and truly immerse themselves in the dense, untouched forest. To go on a Jeep safari during the day or stay overnight in the forest rest house, tourists must get a permit to enter the park. It is advisable to book in advance since there is a high demand for visits to the park, especially on weekends and holidays
Sitabani Forest Zone (Buffer Zone)-
Entry Gate: Near Teda Village (Private Vehicle Allowed), Approx 4 Km From Ramnagar
Exit Gate – Paulgarh Gate
Open Period for Safari Tour – All Round the Year
Safari offered – Day Jeep Safari, Day Elephant Safari
Maximum Number of Jeep Safari – Unlimited
Forest Rest House – Few Hotels and Resorts run privately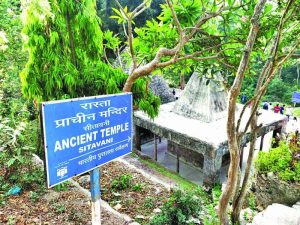 The Sitabani forest zone is a reserve forest located outside the Corbett Tiger reserve area. It serves as a buffer area for the tiger reserve and is open to all visitors. Sitabani has become a popular destination for tourists due to its significance in the Hindu Epic Ramayana. According to the epic, goddess Sita, the wife of Lord Rama, spent some time in exile in the Sitabani jungle. The entire jungle is protected and overseen by the Archaeological Survey of India (ASI).
Tourists can visit the Sitabani tourism zone throughout the year for safari tours, and there is no limit on the number of Jeeps allowed into the area. The Corbett Tiger Reserve Authority does not issue permits for entry into this zone. Instead, the Sitabani Forest Department grants permission for jeep safaris in this region.
The natural landscape of this area is characterized by dense forests, river streams, and old temples. Plenty of herbivorous animals such as elephants, deer, sambars, and Nilgai can be found roaming freely here. However, since this is a buffer zone, sightings of tigers or leopards are rare. Bird-watching enthusiasts will be thrilled to know that there are approximately 600 species of birds in this zone, with many of them being migratory.
To explore this zone, visitors can go on a Jeep safari, elephant safari, or explore by foot. Private vehicles are also allowed. At the entry gate in Teda Village, visitors must pay the entry fee to enter the forest reserve area.
The landscape of this zone has a rich natural view which consists of dense forest and river streams along with many old temples. You will find plenty of herbivore animals like elephants, deer, sambars, Nilgai, and others roaming freely here. Though it is a buffer zone and tiger or leopard sightings are almost negligible here. There are around 600 bird species found in this zone among which most of these are migratory birds. The zone is a delight for bird watchers.
Visitors are allowed to explore this zone by the Jeep safari, elephant safari, or by walking. Private vehicles are also allowed in this zone. You have to pay the entry fee on the spot at the entry gate in Teda Village to enter the forest reserve area.
Garjiya Zone-
Entry Gate: Amdanda Gate, 9 Km. from Ramnagar
Exit Gate – Garjiya Gate
Open Period for Safari Tour- 15th November to 30th June
Safari Offered – Morning and Evening
Maximum Number of Jeep Safari – Limited
Forest Rest House – Garjiya and Malani FRH
Garjia is a highly sought-after jungle area within the scenic Jim Corbett National Park. This tourism zone is teeming with a wide range of plant and animal species. When it comes to safari preferences, Garjia gives tough competition to the Dhikala tourism zone. It is renowned for its breathtaking landscape and offers a serene and tranquil atmosphere. Visitors are captivated by the dense forest and its natural beauty. This region is known for being one of the areas with the highest tiger population in Corbett Park
Garjia Safari Zone (Ringora Safari Zone) is exceptionally endowed with a wide variety of plants and animals. The area is well-known for its beautiful scenery and for being a very tranquil and peaceful environment. Garjia is located approximately 9 kilometers away from Ramnagar city the preferred choice for wildlife enthusiasts. The entrance to this area is through the Amdanda gate; after passing through this gate, you must travel through a buffer zone for about 5 km before reaching the Garjia ecotourism zone. With a large population of Royal Bengal Tigers, Garjia provides fantastic viewing opportunities for tourists. Visitors laud the deep forest's beauty in its natural state. This region is recognized as one of the areas with the highest number of tigers in Corbett Park.
A limited number of cars are permitted to enter during one shift to prevent disturbing the natural habitats of wildlife. If you'd like, you can go on a Jeep safari for the entire day at Corbett Park to see more animals. There are two excellent lodging alternatives in the Garjia zone where you may have a nice stay: Garjia and Malani Forest Rest House.