Why we celebarte Hariyali Teej?
Hariyali Teej celebrates the marriage of Lord Shiva and Goddess Parvati. According to mythology, after the death of his wife Goddess Sati, she was reborn as Maa Parvati, who eventually fell in love with Lord Shiva again without realizing that she was his wife in a past life. Lord Shiva was unaware of her presence and ignored her due to his asceticism. To gain his attention, Parvati fasted and was austere for many years.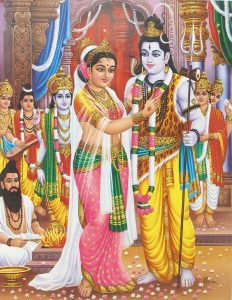 At last, Lord Shiva recognized the sincere efforts of Goddess Parvati and understood her deep love for him, leading to their marriage. It was only on her 108th birth that Lord Shiva accepted her as his wife. This is the reason why women all over India worship Maa Parvati as Teej Mata.
During the joyous occasion of Hariyali Teej, married women worship Goddess Parvati to pray for their husband's longevity and happiness in their married life. Unmarried women also observe fasts and offer prayers to find a suitable life partner. Additionally, this festival is a way to celebrate the abundance and blessings of Mother Nature.
When we celebrate Hariyali Teej?
Hariyali Teej falls on Shravan Shukla Paksha's Tritiya Tithi (third day), ordinarily two days before Nag Panchami.
What are the Hariyali Teej fasting (vrat) rules?
Women rise early on this day, take a bath, dress in new, clean clothes, and make a Sankalpa observe a daylong fast (known as a Nirjala Vrat since they are not permitted to drink even a drop of water), taking the names of Mahadev and Mata Parvati.
After Sankalpa, devotees can begin their vrat
For puja, prepare three idols of Lord Shiva, Mata Parvati and Lord Ganesha – with clay
Next, prepare Panchamrit (a concoction of milk, curd, honey, sugar, and ghee)
Also make Prasad, Halwa, or Kheer for bhog (Naivedya)
Do the puja by offering flowers, coconut, fruits, paan, supari, Dakshina, etc (either during Vijay Muhurat or Godhuli Muhurat or Pradosh Kaal).
Hariyali Teej Puja Samagri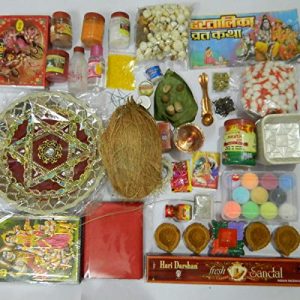 Clay for making the idols (Lord Shiva, Devi Parvati and Lord Ganesha)
White, yellow or red coloured cloth (fresh and unused)
Puja platform (Chowki)
A Pot (Kalash)
Vilva Leaves (Bel Patra)
Coconut with its husk (Nariyal)
Banana leaves
Datura leaves
Flowers
Sandalwood (Chandan)
Dhruva
Turmeric (Haldi)
Unbroken Rice (Akshat)
Mauli
Fruits
Paan
Betel Nut (Supari)
Dakshina
Oil/ghee for lighting the lamp
Curd
Raw milk
Sugar
Honey
Gangajal
Incense Sticks (Dhoop)
Vrat Katha Book
Shringar items for Mata Parvati: Bangles, sindoor, bindi, mehendi, alta, comb, sari and jewellery etc.
You can still perform the puja with sincere devotion even if you don't have all the belongings listed above.