Aala re aala Bappa aala!!
Ganesh Chaturthi, also called Vinayaka Chaturthi or Ganesh Utsav, is a significant Hindu festival that honors the birth of Lord Ganesha, the deity of wisdom, prosperity, and good luck. It is widely celebrated in India, particularly in Maharashtra. Devotees believe that Lord Ganesha returns to Earth each year to bestow blessings upon them. In Indian tradition, this auspicious day is extremely significant and is honoured with great dedication and zeal.
History of Ganesh Chaturthi-
Ganesh Chaturthi has a long history that goes back many centuries. It is believed that the Maratha ruler Chhatrapati Shivaji Maharaj started celebrating this festival as a way of promoting culture and unity among his people, who were divided by caste. However, the public celebration of Ganesh Utsav gained greater popularity during India's struggle for independence, led by Lokmanya Bal Gangadhar Tilak. In the late 19th century, Bal Gangadhar Tilak transformed this religious festival into a public event aimed at unifying people against British rule.
Significance of Ganesh Chaturthi-
Fasting during Ganesha Chaturthi is associated with material advancement, joy, and wealth. Lord Krishna explained the Ganesha Chaturthi fast (vrat) to Yudhishtra. The Bhavishya Purana and Narasimha Purana both make reference to it. This fast is thought to eliminate obstacles and create favorable conditions for success. It also brings knowledge, wealth, and fulfills desires while minimizing the negative impact of mercury planet.
Worshipers of Lord Ganesha are believed to have their wishes fulfilled and be purified of their sins, leading them down the path of enlightenment and understanding. This is the underlying spirit behind the celebration of Ganesh Chaturthi. Reciting the mantra "Om Gam Ganapataye Namaha" is believed to be helpful in fulfilling all desires.
Rituals of Ganesh Chaturthi-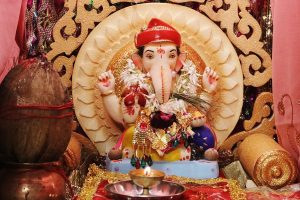 Ganesh Chaturthi is a ten-day festival that signifies the start of prosperity and happiness. It is celebrated both publicly and privately. Many devotees choose to have eco-friendly Ganesha idols for their homes, following their family traditions and personal commitment. People adorn their homes with flowers and rangoli designs and bring clay idols of Lord Ganesha into their homes. Elaborately decorated Ganesh idols are also placed in puja pandals, homes, offices, and educational institutions on the day of Ganesha Chaturthi. Some families celebrate Ganesh Chaturthi for different durations, such as one and a half days, 3 days, 5 days, 7 days, or the full 10 days, each day being unique and wonderful in its own way.
According to tradition, the idol of Lord Ganesha should only be kept in the house for a maximum of 10 days. While it may seem delightful to extend the duration, the intense power and energy accumulated in the idol over this period is overwhelming for humans.
The festivities of Ganesh Chaturthi commence several months ahead with the creation of idols of Lord Ganesha. The festival involves four main rituals – Pranapratishtha, Shodashopachara, Uttarpuja, and Visarjan puja.
Avahana or Pran Pratishtha- The ritual of Pranapratishtha serves to sanctify the idol of Lord Ganesha. Devotees perform "Deep-Prajwalan" (lighting of lamps) and "Sankalpa" (pledge) followed by recitation of mantras. With the recitation of mantras, Lord Ganesha is respectfully invited, and life is invoked within the idol placed in the pandal, temple, or home. This ritual is performed by a priest who chants a mantra.
Shodashopachara- It meaning 16-fold worship involves devoutly offering various items to the lord. After washing Lord Ganesha's feet, offer the Panchamrit Snan, which includes milk, ghee, honey, curd, and sugar. Fresh flowers, akshata (rice mixed with turmeric), sindoor (vermilion), and Chandan (sandalwood paste) are then presented to the idol. The Ganpati idol is adorned with red flowers, durva grass, and garlands in addition to a tilak made of sandalwood paste.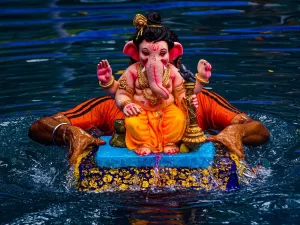 Uttarpuja- It is a practice that takes place during the "visarjan" ritual, which is performed before bidding farewell to Lord Ganesha. This celebration involves presenting flowers to the Lord, reciting mantras, and performing aarti (a ceremonial worship involving light). Then, in that order, the Pushpanjali arpan (flower offering), Niranjan aarti, and Pradakshina rites are carried out.
Ganpati Visarjan- Ganpati Visarjan is the last ritual where the Ganesha idol is immersed in water. As the crowd bids farewell to the lord, they chant "Ganapati Bappa Morya, Purchya Varshi Laukariya" (Hail Lord Ganpati, come soon next year).
Mantras-
वक्रतुण्ड महाकाय, सूर्यकोटि समप्रभ । निर्विघ्नं कुरु मे देव, सर्वकार्येषु सर्वदा ॥
Vakratunda Maha-Kaaya Surya-Kotti Samaprabha Nirvighnam Kuru Me Deva Sarva-Kaaryeshu Sarvada

ॐ एकदंताय विद्महे, वक्रतुण्डाय धीमहि, तन्नो दंती प्रचोदयात् |
Om Ekadantaya Viddhamahe, Vakratundaya Dhimahi, Tanno Danti Prachodaya

ॐ नमो सिद्धि विनायकाय सर्व कार्य कर्त्रे सर्व विघ्न प्रशमनाय सर्व राज्य वश्यकरणाय सर्वजन सर्वस्त्रीपुरुष आकर्षणाय श्रीं ॐ स्वाहा
Om Namo Siddhi Vinayakaya Sarva kaarya kartrey Sarva vighna prashamnay Sarvarjaya Vashyakarnaya Sarvajan Sarvastree Purush Aakarshanaya Shreeng Om Swaha.
Home, Office, Pandal Decoration for Ganesh Chaturthi-
There are numerous options for decorating your home, office, or pandal for Ganesh Chaturthi. You can get creative by using flowers, balloons, drapes, diyas, candles, lights, rangoli, or a combination of these, as well as many other do-it-yourself ideas. The key to Ganesh Chaturthi decoration is to let your creativity flow.
Instead of relying on pre-made decorations available in the market, adding your own creative touch can make a significant difference. Whether it's using flowers, lights, drapes, chandeliers, or designing your temple or mandap, your decorations are bound to catch everyone's attention and leave a lasting impression.
Ganesha Chaturthi Decoration with Flower-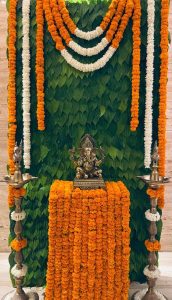 There are countless options for decorating houses and pandals with fresh flowers. You have the freedom to mix and match various types of flowers to create a distinctive floral arrangement in your home. There is a wide range of flowers such as roses, marigolds, orchids, mogra, hydrangea, daisies, and many more for Ganpati decoration. All of these flowers will brighten the house and make Lord Ganesh feel welcome. To liven up your home, you might create various patterns, designs, and floral arrangements.
Ganesha Chaturthi Decoration with Drapes-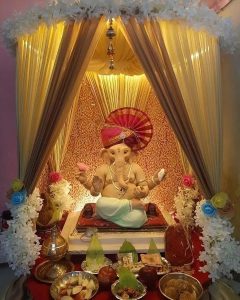 This Ganpati decoration concept for your home should be environmentally friendly. Instead of buying new decorations, you can utilize the beautiful curtains, dupattas, and sarees you already have at home as a backdrop for Lord Ganesh's statue. This creative stylish and fashionable concept involves using these fabrics to create a scenic setting for Ganesh Chaturthi decoration. You can experiment with different colors and arrange them vertically to resemble drapes. This will create an overhanging pattern over the idol of Lord Ganesh.
By using luxurious fabrics in rich colors like velvet, silk, and brocade, you can transform your Ganpati pandal into a lavish sanctuary. This backdrop will radiate grandeur and spirituality. Alternatively, using drapes in colors such as white, beige, or pastel shades can create an elegant and calming atmosphere for your Ganpati pandal.
Ganesh Chaturthi Decoration with Shiny Lighting-
Lights are an essential part of any celebration in India. When it comes to decorating your home for Ganesh Chaturthi, using string lights is a simple yet cheerful way to create a festive atmosphere. You have a range of options to choose from, including string lights, spotlights, and LED lights.
String lights are particularly versatile. You can adorn your ceiling with them or place them in corners to define a room. The appeal of the Ganesh Chaturthi décor is enhanced by adding sparkling lights in the background of the Ganpati mandap. During the aarti, you can turn off all the lights except for a spotlight that shines on the statue of Ganesh Ji. This creates a divine ambiance that adds to the overall spiritual experience.
Decorating your home, office, or pandal with delicately designed fairy lights and lanterns will imbue your surroundings with a glowing, otherworldly charm. These lanterns serve a practical purpose as lighting fixtures and are also exquisite decorative pieces. To enhance the beauty of these lanterns, you can add more metal drop-shaped lights, creating an atmosphere of joy, devotion, and celebration for the auspicious presence of Lord Ganesh.
Ganesh Chaturthi Decoration with Peacock Feather-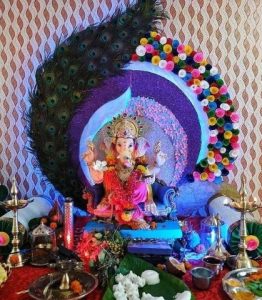 The peacock and its feathers hold great significance in Hinduism and are believed to bring peace and prosperity to a household. One of Ganesh's incarnations, Lord Mayureshwara, even uses the peacock as a vehicle. Incorporating peacock feathers into your Ganpati pandal decoration can add a vibrant and auspicious touch to the celebrations.
The entire appearance of the Pandal will have a captivating appeal thanks to these peacock feathers. Make hangings or garlands out of peacock feathers. Decorating the backdrop or throne of the Ganpati idol with peacock feathers can also highlight its beauty.
This toran with a peacock theme can be used as an entrance to your Ganpati pandal or as a backdrop. Strategically placing these beautiful torans to catch the light can create a divine ambiance that enhances the overall spiritual experience.
Eco-Friendly Ganesh Chaturthi Decoration-
Create a small green space in your home, and put your Ganesha there in the center of the city. For your Ganesh Chaturthi decor, you can incorporate a garden theme by using potted indoor plants, succulents, vines, flowering plants, tall plants, or bonsai. To add a subtle festive touch to this eco-friendly decor, you can adorn the area with candles, oil lamps, fairy lights, or backlit 3D wallpaper.
Instead of using artificial flowers, opt for fresh flowers to decorate your pooja room. You can create garlands using fresh flowers from your backyard or purchase organic flower garlands from the market. If you enjoy making rangoli designs, consider using fresh or dried flower petals, leaves, or natural colors instead of artificial colors.
To adopt an environmentally friendly and sustainable lifestyle, one can opt to recycle old items. Transforming old newspapers, gift wraps, or leftover craft papers into origami wall hangings is a creative way to decorate for Ganesh Chaturthi. These can be combined with flower garlands or fairy lights to create visually appealing and eco-friendly decorations. Another idea is to make DIY chandeliers using jute ropes or handmade paper, adding to the overall DIY decor theme.
DIY Ganesha Chaturthi Decoration with Candles and Diyas and Balloons-
For an impressive home decor, opt for a balloon theme that is both uncomplicated and imaginative. To serve as a backdrop for the Ganpati idol, create a circle balloon backdrop or wrap an entire wall with balloons. Decorating the Ganpati mandap with balloons will significantly enhance the overall atmosphere of the area.
An easy yet effective method to adorn your Ganpati Mandap is by including a range of candles and/or traditional lamps known as diyas. The idol will seem attractive if colourful candles and painted diyas are placed around it. A bowl of water with floating candles in it will add an extra touch to the decorations.
You can enhance your diyas by painting them in vibrant colors such as red, blue, yellow, orange, and green. To make them even more attractive, consider adding glitter, small mirrors, or narrow strips of gotta. These DIY diyas are sure to impress your friends and family, earning you some well-deserved praise!
Alternatively, you can purchase tall colorful candles or opt for tea-light candles. If you have a candle stand, make use of it. Illuminating your mandap with lit-up lamps, candles, and diyas will create a mesmerizing ambiance and is undoubtedly one of the finest DIY Ganpati decoration ideas.
Traditional Sweets to Celebrate Ganesh Chaturthi-
Delicious sweets and opulent feasts are a hallmark of the many festivals that are observed in India. Every festival in our country showcases a variety of culinary traditions, with each region adding its own unique taste. Common sweetmeats like Laddoos and Barfis can be found and eaten at most celebrations. But there are some specific foods that are served at each festival.
The festival of Ganesh Chaturthi, which lasts for 10 days, creates a festive atmosphere just like a carnival. This festival is famous for the large variety of sweet offerings that are made, as it is believed that Lord Ganesh has a special liking for them. Modak is one of Lord Ganesha's favourite sweets. In addition to placing Ganesha idols in their homes, workplaces, and pandals, devotees often offer him various kinds of sweets, fruits, and prasadam.
Some Mouthwatering Traditional Sweets-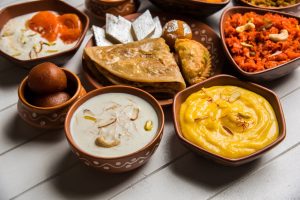 Modak- This sweet is considered to be Lord Ganesh's absolute favorite. In fact, because of His ardent love for these sweet dumplings, He is referred to as Modakpriya in the scriptures. The first day of Ganesh Chaturthi, devotees offer Modak bhog to Lord Ganesha. Rice flour and jaggery are used to make this sweet bhog. Wide varieties of Modak are available nowadays which includes chocolate modak, steamed modak, fried modak, dried fruit modak and more.
Motichoor Laddoo- Aside from modak, Lord Ganesh also has a strong fondness for Laddoos. Boondi laddoo, a bright orange sweet that is dipped in ghee, is a well-loved delicacy during celebrations. Motichoor Ladoo is another name for Boondi Ladoo, one of the most frequently presented as a Bhog to Lord Ganesha. Lord Ganesh is frequently pictured clutching motichoor laddoos, expressing His ardent love for them. Other delicious favourites that are popular during the holiday are coconut and til laddoos.
Satori- It is a Maharashtrian sweet flatbread, is a cherished festival sweet in the state. It is made from gramme flour (besan), khoya, milk, and ghee.
Coconut Rice- One of the most popular bhog to the deity is coconut rice. This rice-based dish is made by either cooking white rice with coconut flakes or soaking it in coconut milk. This flavorful and aromatic preparation is a popular choice for Lord Ganesha's bhog.
Coconut Barfi- It is a tempting fudge-like dessert created with grated coconuts, khoya, ghee, and sugar. It is a simple recipe that can easily be made at home and enjoyed with pleasure.
Puran Poli- It is a traditional Indian wheat flatbread that is filled with a sweet mixture made with spices like cardamom and nutmeg. The term "puran" refers to the stuffing, while "poli" refers to the flatbread.
Shrikhand- It is a popular sweet dish enjoyed in various parts of India. It consists of strained yogurt topped with nuts and raisins.
Banana Sheera- It is a beloved sweet offering to Lord Ganesha and is easy to prepare. It is made from mashed bananas, semolina, and sugar, giving it a texture and flavor similar to the melt-in-your-mouth semolina-based sweet, sooji ka halwa.
Bhog- Bhog serves a twofold function. It signifies the Prasad provided to everyone who visits Lord Ganesh to pay their respects, as well as the food offered to Lord Ganesga during worship. Alongside sweets and other delectable treats, fruits are also presented as bhog. However, bananas hold a special place as His preferred fruit and are given preference over others.